services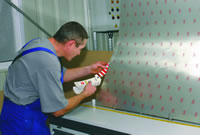 PJSC "KGS" operates under the order, the monochrome, multicolored varnishing and full-color offset printing press for aluminum sheets full size 1100x960 mm and thickness of 0.19-0.4 mm.

We can offer design, selection of color paints and varnishes, manufacture of printed forms, which reduces the term of execution of orders and guarantee high quality of our products.

We work using certificated raw materials: aluminum sheets, coating materials of leading European manufacturers. There is a possibility of use of goods made on Commission. The painting sheet produced on the LTG Mailander with thermal drying.
include "./news/lenta.inc.php"; ?>