about enterprise

QUALITY GUARANTEE STABILITY STABILITY This simple slogan underlines the work of CJSC "KGS&Co", spelling out its priorities, principles and perspectives. The Quality of the CJSC KGS&Co's products corresponds to the European standards. The Guarantee reposes on the high technologies used at the manufacture.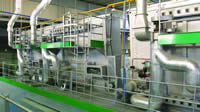 This This modern enterprise is capable of competing with corresponding European manufacturers and is created taking into consideration the last scientific achievements, computer technologies, ecological requirements and all the standards accepted today in manufacture of pilfer proof closures for food and alcohol industry.


Founded in August, 2003 the CJSC "KGS&Co" carried out within a year the giant plant construction and started a full cycle of aluminum screw closure production using the hi-tech equipment manufactured in 2004.


The enterprise consists of several modern shops, is equipped with purification and filtration and noise reduction and other systems. The plant has an advanced social structure. The experienced personnel of the factory is a modern engineering elite.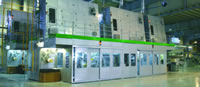 CJSC "KGS&Co" is the only Ukrainian enterprise with a captive manufacture and up to 60 million products a month design output. There screw caps are made out of known German firm Alcan Singen food aluminum with the use of special paints and varnishes, pass all the stages of production, from the offset metal sheet decoration up to the inserts and wads lining of a finished article.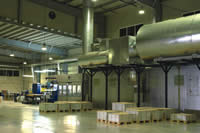 All the production lines are automated and use the newest electrotechnical systems and software. The slightest deviation from the standard technological order results in switching-off the equipment. The manufacture is standardized according to modern requirements for pilfer proof closures for food and alcohol industry.


Our product was certificated by the Ukrainian State Certification System (ÓêðÑÅÏÐÎ) and the Ministry of Health of Ukraine (the certificate of conformity ¹ UA1.007.0076913-04 dated on13.10.2004; the conclusion of the state sanitary-and-epidemiologic examination ¹ 05.03.02-04/50627 dated on 16.12.2004). In March 2007 the CJSC "KGS&Co" received the ISO 9001:2001 Certificate.


include "./news/lenta.inc.php"; ?>